I was born in Geneva in 1969 where I grew up and studied. Passionate since childhood by the drawing and making pictures with my father's camera. I quickly identifies my true passion and starts studies at the school of photography of Vevey, before working as an advertising photographer in a communication agency in Geneva.

In 1997 I moved as a free lance photographer. To meet new customer requirements, I began to specialize in digital photography and computer graphics to make images for advertising campaigns.

Photographer at the Museum of Natural History of the City of Geneva since 2007, I work in close collaboration with scientists, scenic designers as well as professionals in popular science. Both to produce new 2D and 3D images  for exhibitions and visual communication, but also for scientific research.

Always attracted by the new tools of artistic creation, I like starting from a basic idea which awakens my imagination, to tell a story in images

Software used : Blender, Photoshop, Gimp, Premiere CC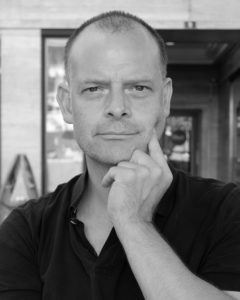 Je suis né à Genève en 1969, où j'ai grandi et étudié. Passionné depuis l'enfance par le dessin et faire des image avec la camera de mon père. J'identifie rapidement ma vraie passion et commence des études à l'école de photographie de Vevey, avant de travailler comme photographe publicitaire dans une agence de communication à Genève.
En 1997, je suis devenu photographe indépendant. Pour répondre aux nouvelles exigences des clients, j'ai commencé à me spécialiser dans la photographie numérique et l'infographie afin de créer des images pour des campagnes publicitaires.
Photographe au Muséum d'histoire naturelle de la Ville de Genève depuis 2007, je travaille en étroite collaboration avec des scientifiques, des scénographes ainsi que des professionnels de la science populaire. Produire de nouvelles images 2D et 3D pour les expositions et la communication visuelle, mais aussi pour la recherche scientifique.
Toujours attiré par les nouveaux outils de la création artistique, j'aime partir d'une idée de base qui éveille mon imagination, raconter une histoire en images
Logiciels utilisés : Blender, Photoshop, Gimp, Premiere CC